How to use the quiz
You can use this quiz on Instagram stories or other social media platforms. It can be used on its own or as a part of the toolkit Re:waste.
For question slides on Instagram stories, you need to open a quiz box and manually paste in the answer alternatives. Make sure to mark the right answer in green (bold text in the captions below).
Suggested hashtag for social media: #rewaste
Quiz images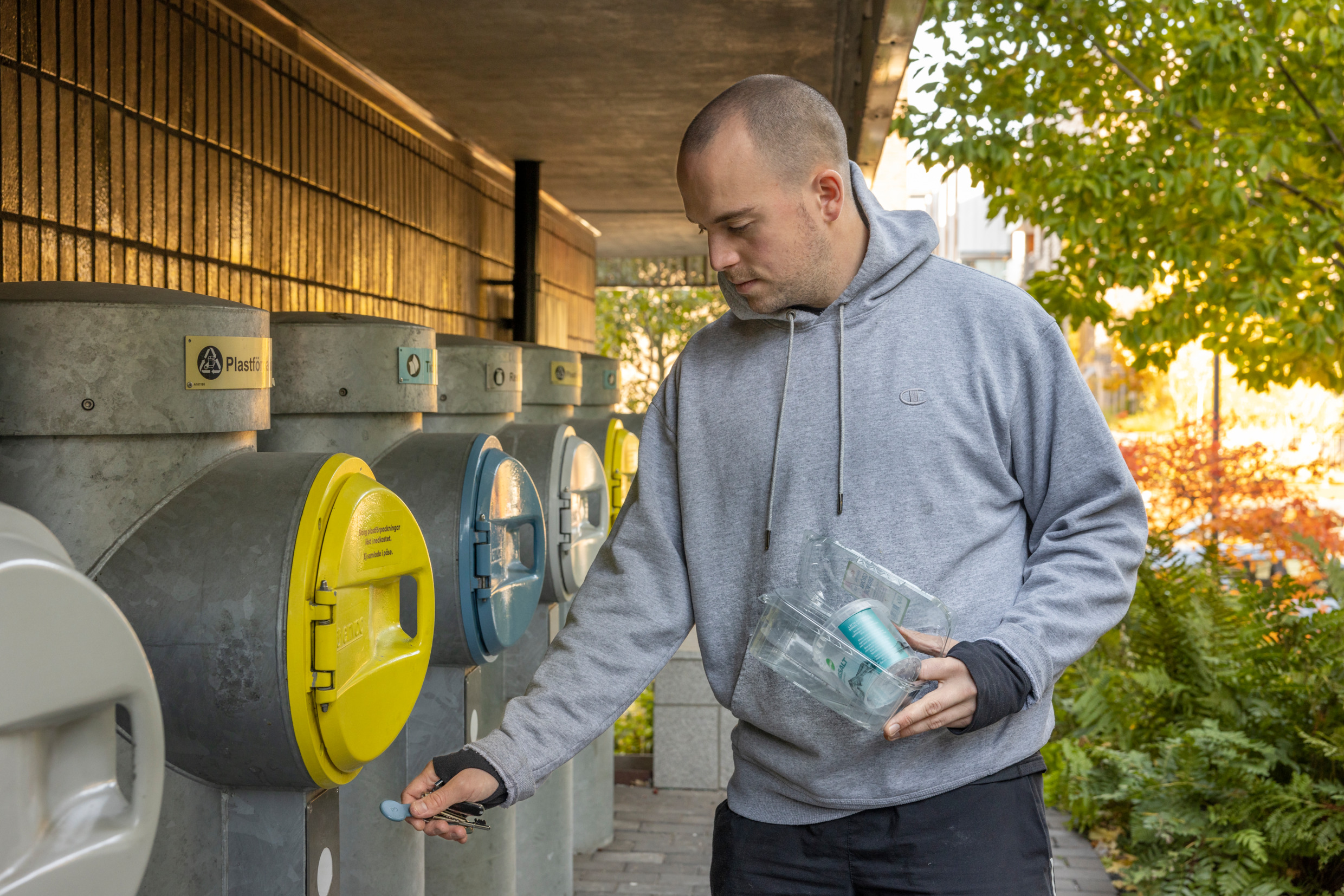 Photo: Jann Lipka/imagebank.sweden.se
Captions for the quiz
1. What percentage of the food produced in the world is wasted?
- 30%
- 10%
- 50%
- 60%
About one third of all the food that the world produces is lost or wasted. It happens at every stage of the food supply chain – from the farm to your kitchen.
2. What's the most important step of the waste hierarchy?
- Recycling
- Reusing
- Prevention
- Recovery
The waste hierarchy illustrates how prevention (stopping waste before it becomes waste) needs to be the primary component of any waste management system, followed by reuse, before recycling and composting, and finally energy recovery. Disposal should be the last resort. Measures that prevent waste save the most resources and energy and also reduces the most amount of waste generated.
3. Approximately how much waste does a person generate each day, on a global average?
- 0.25 kilos
- 5 kilos
- 2 kilos
- 0.75 kilos
The world generates 0.74 kilos of waste per capita per day, more in high-income countries and less in low-income nations. An estimated two billion tonnes of municipal waste were generated globally in 2016, and according to projections from the World Bank, this number is expected to increase by 70 per cent before 2050.
4. What can biological waste be used for?
- Composting
- Producing biogas for fuel
- Producing biochar for soil improvement
- All of the above
Most biological waste can be used for composting to create new soil. By using an anaerobic digestion process, biowaste can also be turned into the fuel biogas, reducing the need for fossil petroleum. Biowaste has other uses, such as producing biochar. Biochar works as a soil improver that also lowers carbon dioxide levels in the atmosphere by locking carbon into the earth for a long time.
5. What's the amount of plastics that leak into our oceans every year?
- 8 million tonnes
- 80 million tonnes
- 1 million tonnes
- 500,000 tonnes
If nothing changes, there will be more plastics than fish in the oceans by 2050. Larger plastic litter such as fishing nets and plastic bags can cause fish, marine mammals and sea birds to get entangled and injured.
6. Which of these choices fall under the definition of a 'share economy'
- Donating money to a good cause
- Buying a car together with a friend and taking turns using it
- A news broadcast about the stock market
- Exporting waste to other countries
7. What is a circular economy?
- An economic system that encourages recycling.
- An economic system that means whatever resources are extracted must be put back into the system.
- An economic system that focuses on eliminating waste and pollution, keeping products in use, and regenerating natural systems.
- An economic system that focuses on an equal distribution of profit.
8. Approximately how many years does it take for a plastic bag to decompose in nature?
- 5 years
- 50 years
- 25 years
- 400 years
Plastic is probably one of the most talked about waste products out there. Mainly because plastic is not a homogeneous material and the possibility of reusing and recycling it is often limited.
9. How many times can steel be recycled?
- An infinite number of times
- 10 times
- Once
- Metal can't be recycled
Steel is 100 per cent recyclable and retains its properties no matter how many times it is recycled. It is in fact the most recycled material in the world.