How to use the quiz
Test your followers' knowledge of the Swedish music scene with this quiz. The quiz can be used on its own or as a part of the toolkit Swedish Music Moments.
The quiz material consists of seven videos meant to be used as Instagram stories. To add question slides on Instagram stories, you need to open a quiz box and manually paste in the answer alternatives. Make sure to mark the right answer in green (bold text in the captions below).
Material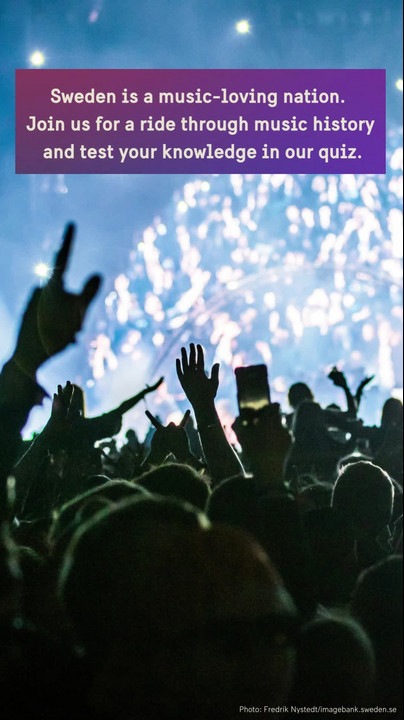 Captions for the quiz
Sweden is a music-loving nation. Join us for a ride through music history and test your knowledge in our quiz.
Which song was NOT written and produced by Swedish pop masterminds Shellback and Max Martin?
- …Baby One More Time (Britney Spears)
-Blinding Lights (The Weeknd)
- Sorry (Justin Bieber)
Which Swedish artist sang 'Husavik'  under the stage name My Marianne' with Will Ferrell in the comedy  'The Story of Fire and Saga'? 
- Molly Sandén
- Zara Larsson
- Molly Hammar
Swedish composer Ludwig Göransson won an Oscar for best music with which film?
- Black Panther
- Game of Thrones
- Spider-Man: No Way Home
Which of these bands are NOT from Sweden?
- First Aid Kit
- Serpent Omega
- Måneskin
Sweden is the country with the second most wins in the Eurovision Song Contest, behind Irland. How many wins?
- 8
- 6
- 4
Which of these bands is NOT from Sweden? (Suggestion: Use the Spotify feature to add the corresponding song.)
- Laleh
- Avicii
- Jack Johnson
- Yung Lean
- Alexander Rybak
- Frank Ocean
- Sabina Dumba
How did it go? 
Rocked it!  -  Need to learn more