Between the lines – Explore the power of literature
Apply
About this toolkit
The literary scene in Sweden is both vibrant and multi-faceted and the international interest in Swedish literature is growing. This makes Sweden a welcome participant in book fairs and literary festivals all over the world. The 'Between the Lines' toolkit provides a means to both deepen and broaden the promotion of Swedish literature abroad. 
Target audience
Literature enthusiasts and anyone interested in exploring the impact of literature in our lives and society.
Contact person
Project reports 2023
Foreign missions are obliged to fill out the project report for toolkits after completed event or activation: 
Financial support for 2024
Swedish foreign missions will be able to apply for financial support for adapting and using the toolkit materials starting 20 November.
Financial support and how to apply
How to use Between the lines
The material aims to promote contemporary Swedish literature while at the same time creating an interest in literature as a concept and some of its core concerns and practices. You will find a poster exhibition, films, social media materials and event suggestions that you can use when promoting Swedish literature.
The exhibition material is available as high-resolution PDF files in English and as word files for translation. When you translate the material to your local language, always contact the Swedish Institute for information about existing translations and help creating high-resolution PDF print files.
Exhibition and press material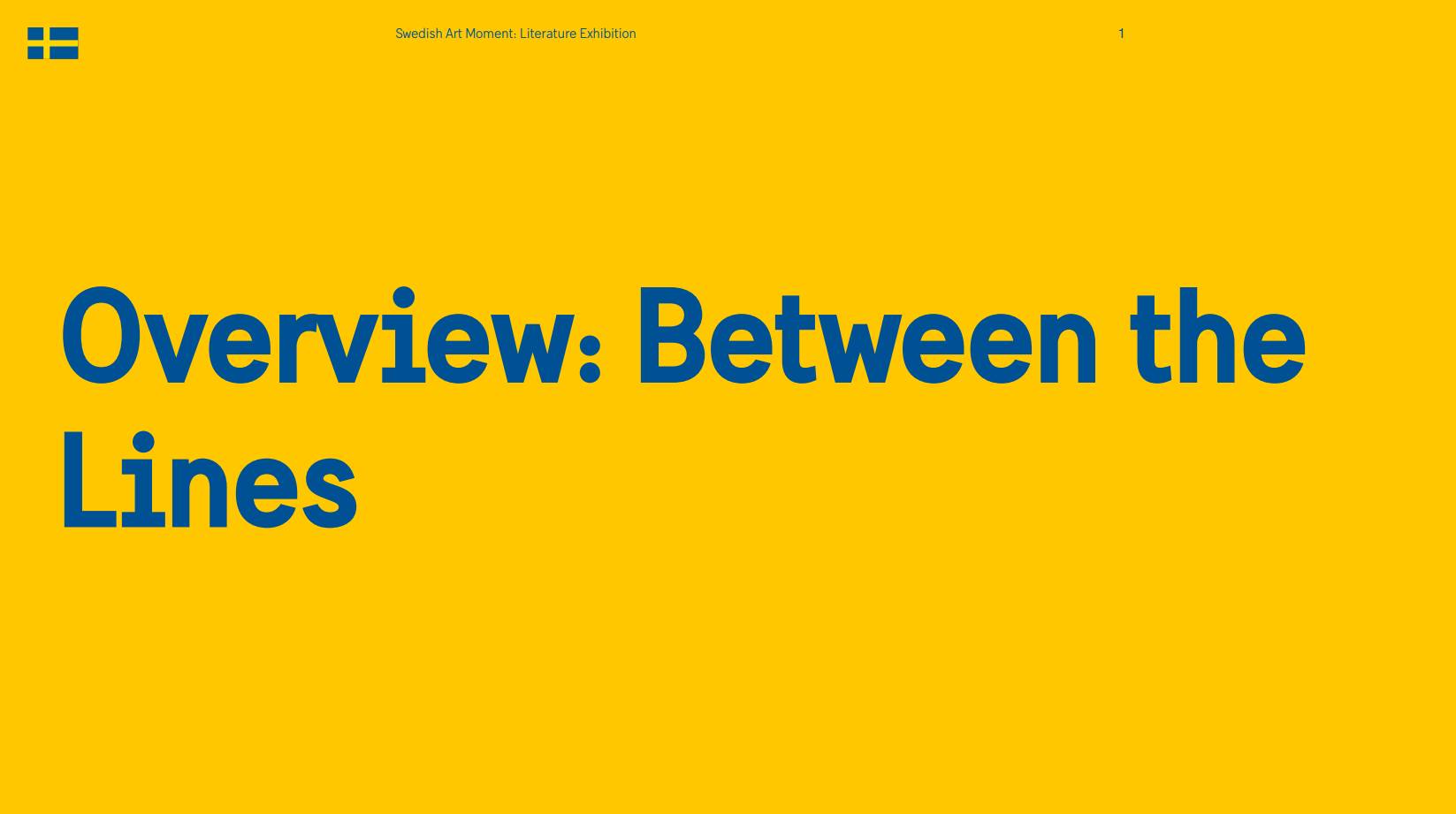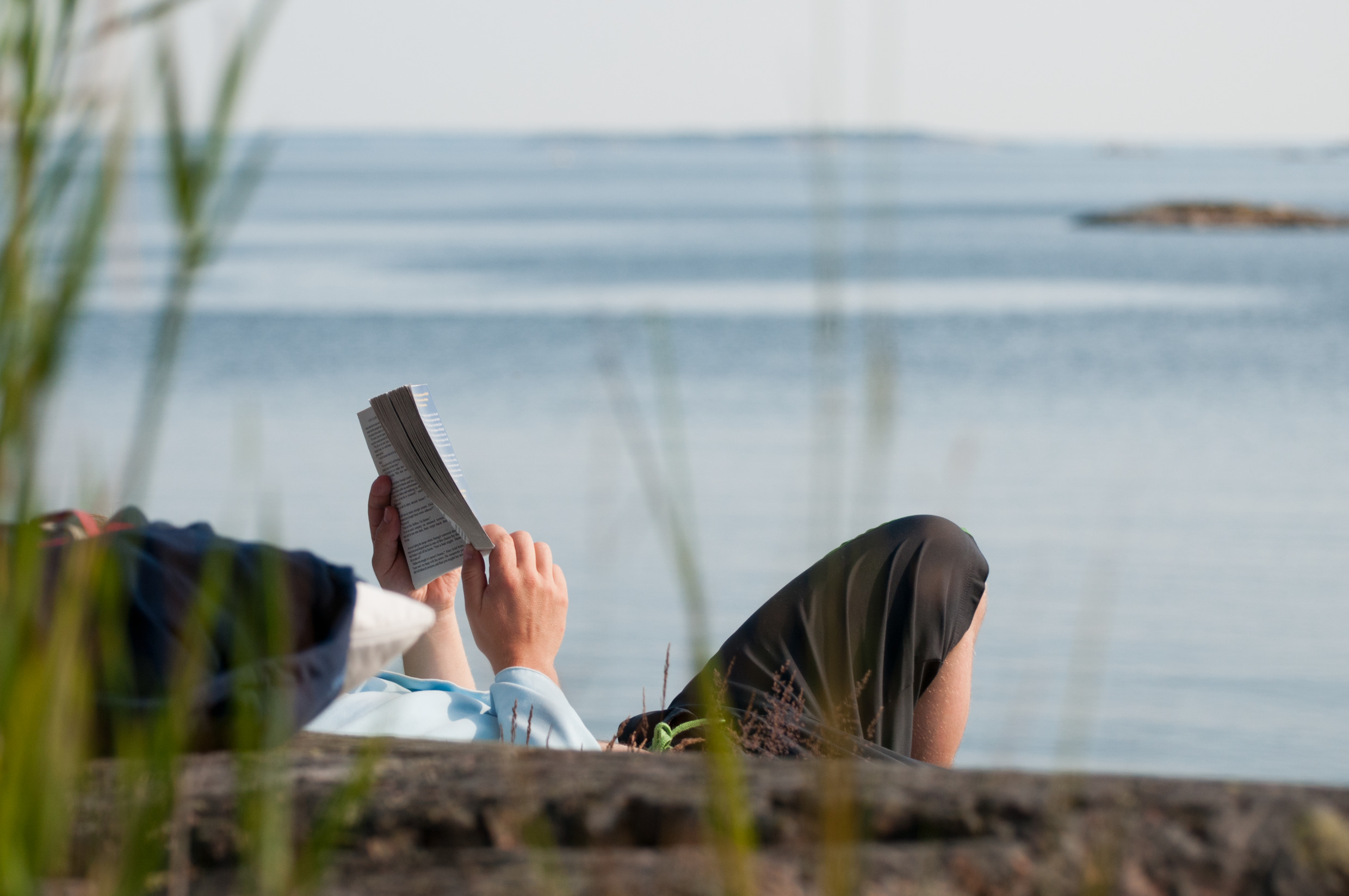 This is a poster exhibition in the form of Q&As. The exhibition gathers representatives of the Swedish literary scene – writers, translators, educators, literacy promotors – who share their thoughts on different literary matters.
To obtain high resolution print files for the exhibition and press photos, please apply to use this toolkit.
Videos and social media posts
The social media material can be published as a campaign when activating the toolkit or throughout the whole year. The videos can be published on social media or screened at events.
Events
Embassies around the world are invited to bring the exhibition to life through a variety of events, including:
Book Fairs and Literature Festivals: Take part in events focused on books, literature, and culture. Showcase Swedish literature and engage with local audiences through author talks, readings, and book signings.
Swedish Book Circles: Organise book clubs where participants can read and discuss Swedish literature. Invite Swedish authors or local experts to lead discussions.
Readings and Individual Author Visits: Invite Swedish authors to give readings and talks about their work or arrange visits for individual authors. This is a great way to bring Swedish literature to local audiences and build a connection between the embassy and the local literary community.
Workshops for Translators: Arrange workshops for local translators to learn more about Swedish literature and techniques for translating it into different languages.
Swedish Teaching and Alumni: Connect with local universities and alumni organisations to promote Swedish literature and the 'Between the Lines' exhibition. Invite Swedish authors to give talks or workshops on campus or organise alumni events to celebrate Swedish literature.
Swedish writers and literature professionals presented in the toolkit
Karin Smirnoff (novelist)
Steve Sem-Sandberg (novelist)
Jan Stolpe (translator)
Elin Anna Labba (non-fiction writer)
Mats Strandberg (YA writer)
Emma AdBåge (childrens' book writer)
Parvin Ardalan (journalist, former ICORN resident)
Elisabeth Åsbrink (non-fiction writer)
Mats Malm (permanent secretary Swedish Academy)
Jonas Hassen Khemiri (novelist/playwright)
Balsam Karam (novelist)
Bim Eriksson (comic books artist)
Sara Garib (spoken word poet)
Lydia Sandgren (novelist)
Ida Linde (writer/director of Biskops Arnö Writers' Workshop)
Malin Persson Giolito (crime fiction writer)
Bagir Kwiek (former Swedish national reading ambassador)
Get inspired
'Between the Lines' at the Book Fair in Riga, Latvia: